The Minister of Tourism, David Collado, announced today the construction of a pilgrimage boulevard in front of the Basilica Nuestra Señora de La Altagracia in the municipality of Higüey.
"(…) So that this boulevard of pilgrimage and of the mystery of the virgin would be built. This boulevard will be a tourist incentive that has nothing to envy to any of these countries that encourage religious tourism," said Collado.
Likewise, the highest representative of the Government in matters of tourism, advanced the conditions in which the boulevard and the surroundings of the Basilica would be.
"This will become an unprecedented tourist boulevard with that beautiful backdrop of the Basilica that will take you directly there," he said.
The work will be developed with an investment of 95 million pesos and another 10 million pesos in the facilities for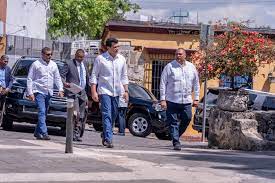 the pilgrimage "that will be made on the important road".
Macao
In another order, David Collado expressed the importance of the area of Macao and Macao beach for the tourism that enters the Dominican Republic through Punta Cana.
"57 percent of all the tourists arriving in the Dominican Republic come through this important province and we have decided with the private sector and in consensus with the authorities to make an investment plan", he said.
Collado pointed out that in Macao beach an investment of 35 million pesos was made for the main avenue which was delivered this morning, and that with this "an investment of 136 million is completed in all that is Macao beach".
Veron
Similarly, the Minister of Tourism added that the streets of Veron will be intervened under an investment of about 70 million pesos in the asphalting of more than 4.5 kilometers in all its sectors and neighborhoods, with the intention of providing a better quality of life for workers in the tourism sector residing in that locality.
Source: Hoy.com
Learn more: TOURIMS