The park, which was originally scheduled to open in November, will be part of the Falcon's Resort by Meliá in Punta Cana.
Under the "resortainment" concept, a combination of luxury hotel services and entertainment, Katmandu Park, the new theme park included in the Falcon's Resort by Meliá | All Suites Punta Cana hotel, will be inaugurated on March 15.
As a sort of "combo", the park, which was originally said to be operating from November 2022, will be open to the public as part of the entertainment at the new hotel of the Meliá Hotels International and Falcon's Beyon chain, which opened its doors in December.
Those staying at the hotel will have the park included in their rate, while those who only wish to visit Kathmandu will be able to do so by paying $120 per person, a ticket that will give access to 10 attractions.
The new attraction that the Dominican Republic will have was announced at a meeting with the press, as part of the activities prior to the International Tourism Fair (Fitur 2023) where the country is a co-sponsor.
"It always goes hand in hand with a theme park." This is how Sara Ranghi, marketing director, explains the concept, indicating that the idea allows presenting a hotel with elegance and entertainment.
This combo, which goes together in a second stage with the renovation of Paraíso Punta Cana, has a cost of 400 million dollars.
Katmandu could not be inaugurated in November due to the delay with the machinery for the park's attractions, most of which came from the United States and Asia. Ranghi explained that this was due to the effects of the COVID and, in order to avoid any failure for safety reasons, it was decided to postpone it until this March.
Falcon's Resort by Meliá | All Suites Punta Cana is part of a new $350 million entertainment destination called Falcon's Beyond Destinations that will feature three distinct guest experiences: the resort, a new theme park and a shopping, dining and entertainment center called Falcon's Central.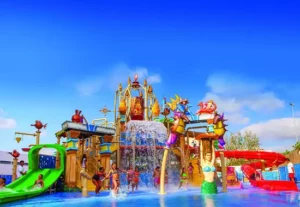 The Caribbean's first theme park
Katmandu Park, Punta Cana, promises to transport visitors through immersive storytelling experiences, which will include four attraction tents utilizing various proprietary technologies, as well as 36 holes of miniature golf, an outdoor ropes course and a themed carousel.
The park features 10 attractions that will offer a real-time interactive experience, as well as special effects including wind, smell, light and audio.
The Quest: Participants join others in an epic battle of wits in a "secret laboratory.
Suspended Theater (the first of its kind): In this attraction visitors will feel like flying through "mystical waters" in a submersible to defend an underwater kingdom.
Dark Ride 4D : It is about discovering the legendary secrets of the mysterious red jewel Desirata while searching the ice caves in the depths of the Himalayas.
Interactive Tournament: A giant robot adventure through a multidimensional chess battle.
Expedition Golf in the Himalayas: Cross fabled peaks and glaciers while playing up to 36 holes on two different courses with friends or family. Mind-blowing challenges await. Expect the unexpected.
The Ropes Challenge: This is a mountaineering attraction with an 18-meter high ropes course.
Mythical Obstacle Course: To test strength, agility and skill.
Soft Play Adventure: Giant slides, interactive ball battles, trampolines, tunnels, etc.
The Hotel
Falcon's Resort by Meliá | All Suites Punta Cana, is a five-star all-inclusive resort located on Bávaro Beach.
According to its executives, it is a multi-phase transformation of two existing Meliá establishments, Paradisus Grand Cana and Garden Suites by Meliá, comprising 622 rooms.
The first phase has been rebranded as Paradisus Grand Cana and includes 432 luxury suites, three swimming pools, nine specialty restaurants and a world-class spa and fitness center. The second phase, the rebranding of Garden Suites by Meliá, will include 190 rooms, to be completed by the end of 2023.
Source: Acento.com.do
Learn More: HOTELS