This week Arajet will connect the Dominican Republic with routes to Guatemala City, Monterrey and Cancun.
Arajet, the Dominican low-fare airline, has started selling flights to Kingston, the capital of Jamaica, where it will land for the first time on November 16.
Arajet is also celebrating its arrival in Mexico with the first flight to Mexico City at Felipe Angeles International Airport (AIFA) with an event supported by Mexico's Secretary of Tourism, Miguel Torruco.
The NLUSDQ flight to Mexico City has three weekly frequencies – Monday, Thursday and Saturday, departing at 07:15hrs and arriving at 10:40hrs – and will give travelers the possibility to connect with Mexico for less than $200.
With the objective of democratizing the airline industry in the region, Arajet said it will complement its connection offer between Mexico and the Dominican Republic through two additional routes: Monterrey with two weekly frequencies – Tuesday and Friday departing at 07:15hrs and arriving at 11:05hrs -, and Cancun with three weekly frequencies – Tuesday and Friday departing at 18:45hrs and arriving at 20:40hrs, and Sunday departing at 17:20 and arriving at 19:10hrs -, destinations that will begin operations this Friday, September 30.
It will also begin operations to Guatemala City on Wednesday 28 with two weekly frequencies on Wednesdays and Sundays departing at 8:00hrs and arriving at 9:15hrs; and announced that it will arrive to Jamaica on November 16 with two weekly frequencies, scheduled for Mondays departing at 18:40hrs and arriving at 21:05hrs; and Wednesdays departing at 17:20hrs and arriving at 20:50hrs.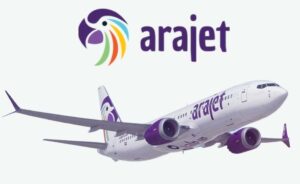 Victor Pacheco Mendez, CEO and founder of Arajet, expressed that "these markets are transcendental for the tourism and airline industry, so venturing into these new and direct routes in such emblematic destinations is a unique opportunity to boost the transit of visitors for the benefit of economic, tourism, commercial and cultural development between both countries".
Arajet reaches these destinations with an initial fleet of five new, state-of-the-art Boeing 737 MAX-8 aircraft, which provide a comfortable and safe flight experience in a cabin with 185 reclining seats for maximum comfort and sufficient personal space. The aircraft are the quietest in the regional market with 40% less noise pollution per leg, and their CFM LEAP-1B engines save up to 14% more fuel compared to single-aisle aircraft on the market, allowing the airline to save on operating costs that support low fares for everyone to fly with simple, direct bookings on Arajet.com.
During September, Arajet also began operations in Colombia, Peru, El Salvador and Aruba. By October, it will expand its offerings to Costa Rica, Guatemala and two more cities in Colombia, completing the first stage in its network of destinations.
Learn More: FLIGHTS