Arajet, the Caribbean low-cost airline, announced that, as of May 6, it will increase the frequency of its Mexico City-Dominican Republic flight from four to five a week, after six months of operating out of Felipe Angeles International Airport (AIFA).
The fifth frequency to Mexico City on Saturdays from Santo Domingo International Airport (SDQ) to Felipe Angeles Airport (NLU) completes the airline's offer on Tuesdays, Thursdays, Fridays and Sundays.
In an interview with Fortuna, José María Alvarado, commercial director of the Dominican airline assured that the balance of its operations in the country has been highly positive, with 30 thousand passengers transported to and from Mexico.
Within the framework of the Tianguis Turístico 2023, the executive indicated that Arajet recently launched its first connection between Mexico City and Medellin -with a stopover in Santo Domingo-, writing a new chapter in the history of Dominican aviation that will enable the country to become the great hub for low fares in Latin America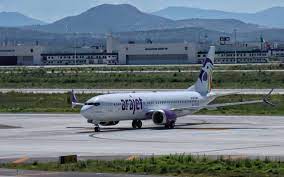 and the Caribbean.
"The context of Tianguis Turístico is the ideal scenario to launch Connections, Arajet's first major evolution as an airline. Since last Friday, March 24, our passengers can fly from Mexico City to Medellin, using Las Americas International Airport in Santo Domingo as a connection point, without going through immigration or baggage claim. With this connection we begin a new era in our low-fare hub in the Dominican Republic," he said.
José María Alvarado said the low-cost airline will increase its fleet by the end of 2023. It currently has five latest-generation Boeing 737 Max aircraft and expects the arrival of five more aircraft. "With the arrival this year of five B737 Max aircraft, we will have a unique state-of-the-art fleet, which will allow us to streamline operations and save on aircraft maintenance.
The airline's executive said that Mexico is the Dominican Republic's second largest trading partner. "Arajet has managed to crystallize through our routes from Santo Domingo and with connections, a common interest in strengthening economic, tourism and commercial exchange.
A second phase of connections will include flights from Mexico City and Cancun to St. Marteen, Aruba, Curacao and Jamaica in the Caribbean", he concluded
Source: Revistafortuna.com.mx
Learn more: TRAVEL