For Guatemalans, it is now possible to travel directly to the Dominican Republic with flights from US$55 one way (about Q425.80) and US$149 round trip (about Q 1,153.54), taxes included; the city of Santo Domingo will be in charge of receiving passengers, so that they can then venture to the paradisiacal beaches, unique tourist and commercial experiences.
"Before Arajet, if you wanted to go to the Caribbean you had to pay upwards of US$2,000 and make a 14-hour trip. Now, Arajet connects you directly with economic tickets and without having to make a stopover, we are talking about a flight of 2 hours and 50 minutes", commented the president of the company, Víctor Pacheco, to La Hora Economía.
The first direct flight from La Aurora International Airport to the Dominican Republic will be on September 28 at 10:00 am (times may vary) on Wednesdays and Sundays. In addition, from September 15 it will reach Mexico City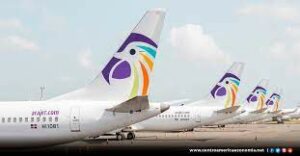 and Monterrey and Cancun will also be linked to that destination.
After that date, it will also fly to Barranquilla, Cali and Cartagena in Colombia; Quito and Guayaquil, in Ecuador; Lima, in Peru; San Salvador, in El Salvador and St. Maarten, Aruba and Curacao in the Caribbean.
SUPER PROMOTION
The airline launched a super promotion so that more than 5,500 people can fly with prices ranging from US$55 to US$100 each way, and round trip fares starting at US$149, which can be found on the website: www.arajet.com.
Subsequently, the airline will offer temporary promotions and then regular prices; and in all cases it will ensure that it is the lowest fare in the market, according to Alvaro de Oleo, vice-president of Marketing.
Arajet also announced that as of October it will increase its routes, adding flights to Toronto and Montreal, Canada; Medellin and Bogota, Colombia; San Jose, Costa Rica; and Kingston, Jamaica; thus establishing a wide route network of 20 destinations in 12 countries in its first 3 months of operations.
ENVIRONMENTALLY FRIENDLY AIRCRAFT
Arajet will start operations with five new Boeing 737 Max-800 aircraft. These aircraft are state-of-the-art, specifically designed to be environmentally friendly, with 14% less fuel consumption compared to most single-aisle aircraft.
Innovating with green technology will allow the airline to save on fuel costs, maintenance, operations, and in turn, pass those savings on to customers.
BOOSTING ECONOMIC AND TOURISM GROWTH
Guatemala's ambassador to the Dominican Republic, Javier Zepeda, told this newspaper that the new union between the two countries responds to the strategy of further promoting economic growth and multi-destination tourism.
He also stressed that neither Guatemalans nor Dominicans need a visa to travel to these countries.
Learn more: Travel