The German airline guarantees 8 flights per week in summer and 10 in winter.
Berlin, Germany. -The Minister of Tourism, David Collado, closed this Wednesday agreements with Condor airline that guarantee a frequency of 8 weekly flights in the summer and ten during the winter to the Dominican Republic.
This is part of an agreement signed by Collado with Condor airline during the ITB-Berlin fair to start covering Air France routes in the summer.
The agreement was signed by Minister Collado and Bernd Bechtel, Condor's Director of Airport Relations, within the framework of the ITB-Berlin fair, which began this Tuesday and runs through tomorrow, Thursday.
The agreement also includes the extension, for one year, of the agreement between the Ministry of Tourism and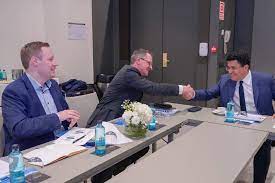 Condor.
Bechtel said that this agreement is part of Condor's commitment with the Dominican Republic.
Minister Collado considered that the signing of the agreement is of great importance for the country, as it will help to start covering Air France routes in the summer.
"This is very good news for the country, for which we are grateful for this support from Condor," said Minister Collado, after signing the agreement with the German airline.
Likewise, the coordinator of the Tourism Cabinet informed that other arrangements are being made to guarantee more flights from Europe in the summer.
Source: Mitur.gob.do
Learn more: TRAVEL